Tamilnadu - Fine arts - Kolattam
Kolattam
| | |
| --- | --- |
| Kolattam is an ancient village art. This is mentioned in Kanchipuram as 'Cheivaikiyar Kolattam', which proves its antiquity. This is performed by women only, with two sticks held in each hand, beaten to make a rhythmic sound. Pinnal Kolattam is danced with ropes which the women hold in their hands, the other of which are tied to a tall pole. With planned steps, the women skip over each other, which forms intricate lace-like patterns in the ropes. As coloured ropes are used, this lace looks extremely attractive. Again, they unravel this lace reversing the dance steps. This is performed for ten days, starting with the Amavasi or Newmoon night after Deepavali. | |
Karagattam
Karagam is a folk dance with musical accompaniment, performed balancing a pot on the head. Traditionally, this dance was performed by the villagers in praise of the rain goddess Mari Amman and river goddess, Gangai Amman, performed with literature with water pots balanced on their heads. In Sangam literature, it is mentioned as 'Kudakoothu'.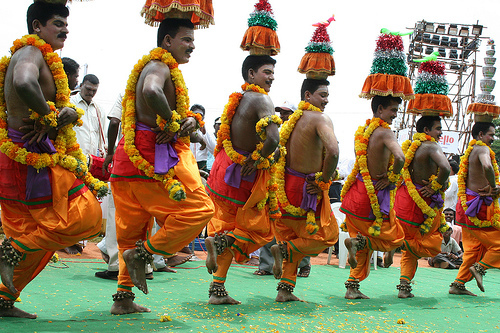 This dance has two divisions - one, Aatta Karagam and the other 'Sakthi Karagam'. More often it is danced with decorated pots on the head and is known as 'Aatta Karagam' and symbolises joy and merriment. The former is performed only in temples, while the latter is mainly entertainment in nature. This is one of the more popular rural dances today. Earlier it was performed only with accompliment of the Naiyandi Melam but now it includes songs also.
Kavadi Aattam
| | |
| --- | --- |
| The ancient Tamils when they went on pilgrimage, carried the offerings to the gods tied on the either end of the long stick, which was balanced on the shoulders. In order to lessen the boredom of the long travel they used to sing and dance about the gods. Kavadi Aattam has its origin in this practice. Special songs were created to be sung while carrying the Kavadi Sindhu. This dance is performed only by men. It is done by balancing a pole with pots fixed on either end, filled with milk or cocunut water. The poles are made from Purasai or Teak wood. On top, bamboo strips are bent like a half-moon, covered with saffron cloth and further decorated on the sides with peacock feathers. This is mainly a religious dance, performed in worship of Lord Murugan, the second son of Siva. The dance is accompanied by Pambai and Naiyandi Melam. | |
Kazhai Kothu
Kazhai Kothu is a performance of gymnastic specialised by travellers. This is very similar to modern day circus. They travel in a group from place to place, entertaining the local people and thus earning a living.
Kummi
| | |
| --- | --- |
| | Kummi is one of the most important and ancient forms of village dances of Tamilnadu. It originated when there were no musical instruments, with the participants clapping their hands to keep time. This is performed by women; many varieties of Kummi, such as, Poonthatti Kummi, Deepa Kummi, Kulavai Kummi, Kadir Kummi, Mulaipari Kummi etc are known. The women stand in a circle and dance clapping their hands rhythamically. This dance is usually performed during temple festivals, Pongal, the harvest festival, family functions like the one to celebrate the coming of age (onset of puberty) of the girl-child etc. The first line of the song is sung by the leading lady, which the others repeat. |
Mayil Attam
This is done by girls dressed as peacocks, resplendent with peacock feathers and a glittering head-dress complete with a beak. This beak can be opened and closed with the help of a thread tied to it, and manipulated from within dress.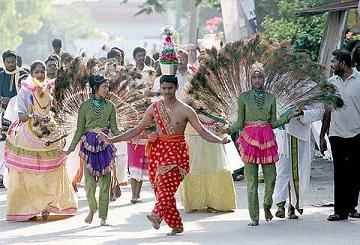 Other similar dances are, Kaalai Attam (dressed as a bull), Karadi Attam (dressed as a bear) and Aali Aattam (dressed as a demon) which are performed in the villages during village get-togethers. Vedala Aattam is performed wearing a mask depicting demons.