Tamil Nadu - Tamil Nadu Travel - Rameswaram Tourism
Rameswaram a town in Ramanathapuram district of Tamil Nadu. It is located on Pamban Island separated from mainland India by the Pamban channel and is about 50 kilometres from Mannar Island, Sri Lanka. Pamban Island, also known as Rameswaram Island, is connected to mainland India by the Pamban Bridge. Rameswaram is the terminus of the railway line from Chennai and Madurai. Together with Kashi, it is considered to be one of the holiest places in India to Hindus, and part of the Char Dham pilgrimages. Hence, it is a bustling pilgrim centre.
It is situated in the Gulf of Mannar at the very tip of the Indian peninsula. According to legend, this is the place from where Lord Rama built a bridge Ram Setu (also known as Adam's Bridge) across the sea to Lanka to rescue his consort Sita from her abductor Ravana. Both the Vaishnavites and Shaivites visit this pilgrimage centre which is known as the Varanasi of the south.
HISTORY
Sri Ramanathaswamy temple is situated close to the sea on the eastern side of the island, which is in the shape of a conch. The island is connected with the main land at Mandapam by an awe-inspiring rail bridge and a road bridge. In ancient days, the shrine was only a thatched hut. Over the centuries, the small shrine was gradually developed into what it stands today as a massive and magnificent structure.
Different dynasties were ruling the Ramanathapuram region in different periods. Pandya Kings were ruling up to the 15 century. Later, the region came under the reign of Nayaks of the Vijayanagar empire, who ruled till around the 1 7 century. Then the Sethupathis, who were the earliest chieftains of the region, came to power. They lavished their funds for art and architecture of the Rameswaram shrine. Notable among them were Udayan Sethupathy, Thirumalai Sethupathy, Raghunatha Sethupathy and Muthuramalinga Sethupathy, whose statues are housed in the temple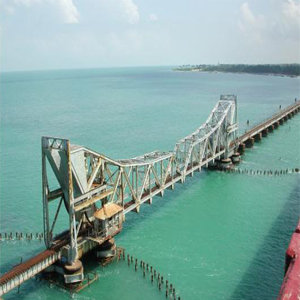 | | |
| --- | --- |
| Area | 10 meters(33 ft) |
| Population | 32,224 (As per 2001 Census) |
| Altitude Latitude & Longitude | 9.28°N 79.3°E |
| Languages Spoken | Tamil, English,Singalam |
| Temparature | 30°C to 35°C |
| STD Code | 04573 |