Tamil Nadu - Tamil Nadu Travel - Kodaikanal Tourism
Kodaikanal is the Queen of the hill resorts in India. It is a charming hill station, stands amidst sylvan beauty on the southern crest of the upper Palani Hills near Madurai in Tamil Nadu. With its rocks, woods, lovely lake and bracing air, Kodaikanal is an ideal hill resort for the tourists.
Kodai is situated at an altitude of about 2,133-m high and covers an area of 21.45-sq-km. The hill town is renowned for its educational institutions of international repute. The hill-plantain fruits and plums are known for their freshness and taste. Berijam lake, one among the beautiful lakes of South India, spreads over an area of 24 hectares.
History of Queen hill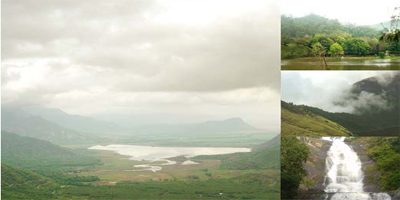 There is proof of settlement of prehistoric tribes at Kodaikanal by visible artifacts such as dolmens homes of great stone slabs. After the primitive tribes of Paliyans and Pulyans in 14th century, villagers of Palani foot hills fled into Kodai hills, to escape from the oppressive rule in the plains and also from the invasion of Tippu Sultan.
The first European to visit Kodaikanal was Lt. B.S. Ward a surveyor in the year 1821. His Head Quarters was Vellagavi village. There were many American missions in South Tamil Nadu. The foreigners could not bear the oppressive heat in Tamilnadu and they faced sickness from epidemic diseases and consequential deaths. They wanted neat and healthy natural surroundings near Madurai to rest and improve their health. In the year 1872 Lt. Coaker cut a path along the ridge of steep south eastern side which commends a magnificant view of the plains below. The path was named after him as Coaker's Walk