Tamil Nadu - Tamil Nadu Travel - Kanchipuram Tourism
City of thousand temples welcomes you. Kanchipuram district is situated on the north-eastern coast of Tamil Nadu, adjacent to the Bay of Bengal and Chennai city. It is bounded in the west by Vellore and Thiruvannamalai district, in the north by Thiruvallur district and Chennai district, in the south by Villupuram district, in the east by Bay of Bengal. Kanchipuram, the temple town is the district headquarters.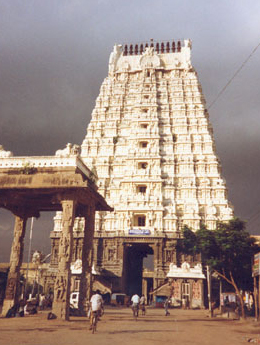 Fabulous city:
Kanchipuram was the historical capital of the Pallavas during the 7th - 9th centuries. Kanchipuram is one of the seven sacred cities of India. Kanchipuram is famous for hand-woven silk fabrics and saris. The weavers use the highest quality silk and pure gold thread. Kanchipuram is also known as Silk City. Sankaracharya 'Math' is situated at Kanchipuram.
History
Kanchipuram- "Golden City Of Temples" was believed to be the most attractive city of ancient India. This city is one of India's seven sacred cities and is considered the second holiest place in India next to Varanasi. It was under the Pallavas from 6th to 8th century A.D. after that it was briefly occupied by the Chalukyans of Badami, and by the Rastrakutas when the battle fortunes of the Pallava kings reached a low ebb. The remains of a few Buddhist stupas here also bear testimony that Buddhism also prevailed here for a while. One of the Acharya Peetas of Sri Adi Sankaracharya - The Kanchi Kamakoti Peetam is situated here. It has been a centre for Tamil learning and Culture for centuries and gives us a clear picture of the glorious Dravidian Heritage of the Vaishnavites and Shaivites.
Temples in Kanchipuram:
Kanchipuram city is famous for its Temples. Kanchipuram is known as the home of thousand ancient temples. The temple city of Kanchipuram is one of the seven holiest cities of India. All the various temples in Kanchipuram belong to the south Indian style of temple architecture.
Kailasanathar Temple
Kamakshi Amman Temple
Varadarajar Temple
Vaikunta Perumal Temple