Tamil Nadu - Tamil Nadu Travel - Chidambaram Cities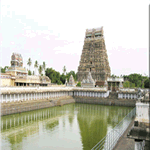 Chidambaram is one of the holiest shrines in south India. Chidambaram attracts lots of non pilgrim tourists as well as foreigners. The Nataraja Temple is the most visited tourist attraction, which is located at the heart of the town. This is a very huge temple complex and covers an area of almost 40 acres. The interior of the temple complex there are other attraction as well, like the Shivakamiamman Temple, the Sivaganga tank and the thousand pillared hall. The northern end of the town lies the Thillaikaliamman temple. Annamalai University in Chidambaram is a completely residential university and is one of the major attractions of this town.
Chidambaram Travel Guide - The name of the word Chidambaram is derived from the word 'Chit Ambaram' which literally means the sky permeated by an atmosphere of intelligence and wisdom. Lord Nataraja is said to have emerge from the blessed space and performed his Cosmic Dance before his two devotees. Most visitors come to see the impressive Rameswaram Temple, famous the world over for its lengthy and ornate corridors, representing fine architectural masterpieces Chidambaram Pilgrimage.Rameswaram also boasts of fabulous beaches edging its coral reef waters abundant with exotic marine life, making it a haven for adventure seekers. The temple town of Chidambaram, 58 km south of Pondicherry salute the visitors, with a attractive temple, dedicated to Lord Nataraja - Lord Shiva in the enchanting form of a Cosmic Dancer. Chidambaram City Information – Here having five Shaivite mukti sthalams, the other four being Kalahasti, Kanchipuram, Tiruvannamalai and Tiruvanaikaval. A exclusive feature of Chidambaram is that a person of any race or religion can visit the shrine and pray.
Chidambaram Facts:
• Area 4.80 sq. km
• Population 58,740
• Altitude 5.97 metres above sea level
• Languages Tamil, English
• STD Code 04144
• Best time to visit October to March