Tamilnadu - Cinema - Vijay Awards - 2012
Vijay Awards Select Year :
The Vijay Awards started by the Tamil television channel STAR Vijay to honour excellence in Tamil cinema. It has given annually since 2006. The awards are decided by a jury, consisting of noted filmmakers, critics and technicians, while winners in a separate category named "Favourite awards" are chosen by public voting.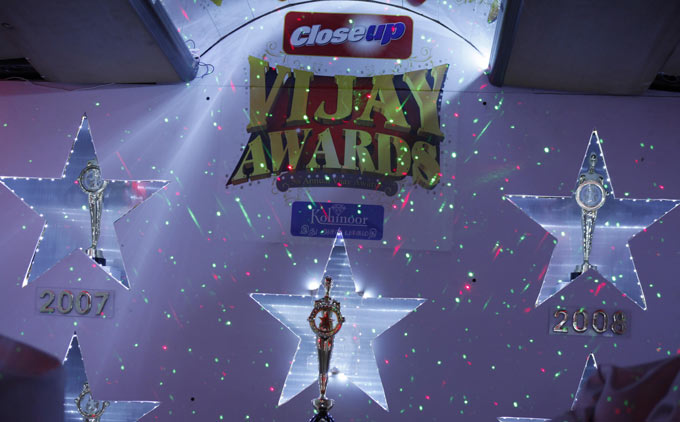 The first edition of the awards was held to select the most popular artists, however not for any particular work or year. In the first year of the awards, viewers were asked to choose their all time favourite film and artists in 9 categories - Favourite Hero, Heroine, Film, Director, Music director, Playback Singer Male / Female, Villain and Comedian - while 10 Jury Special Awards were also introduced. The format was completely reworked the following year and from 2008 onwards, the works of the preceding year were honoured, with the majority of prizes being selected by a committee, while awards in five categories (Favorite Hero, Heroine, Film, Director and Song) are chosen by public voting. The award for Favorite Song was introduced in 2008.
Vijay Awards - 2012
The 6th Vijay Awards ceremony honoring the best of Tamil film industry in 2011 was held on June 16, 2012 at the Jawaharlal Nehru Indoor Stadium Chennai. The event was hosted by Gopinath and Sivakarthikeyan. The jury members were director K. S. Ravikumar, comedian Yugi Sethu, actress Nadia Moidu, Lizy Priyadarshan and cinematographer R. Rathnavelu.
Award Winners List