P Chidambaram born 16 September, 1945 is an Indian politician and present Union Minister of Home Affairs of the Republic of India. He is among the most prominent cabinet ministers of the ruling United Progressive Alliance UPA union government led by Indian Prime Minister Manmohan Singh. From May 2004 to November 2008, he was the Finance Minister of India. However, after the resignation of Shivraj Patil, Chidambaram was made the Home Affairs Minister.
P. Chidambaram was also a Cabinet Minister with the Finance portfolio for a brief period in the United Front coalition government from 1996 to 1998. Prior to this, he was Minister of State Deputy Minister in the Rajiv Gandhi and Narasimha Rao led Congress-party governments, holding other portfolios. He hails from the royal family of Nagarathar or Nattukotai Chettiars of Tamil Nadu.
Chidambaram, a former staunch socialist , ushered in full-on market reforms and liberalisation. He has been fully supportive of the calibrated economic reforms, ushered in since 1991. He was a trade union activist in his early years. He was a critic of Friedrich Hayek and the free-market. Chidambaram was also instrumental in implementing the ideas of Friedrich Engels by banning futures trades in wheat and rice. As an ideologue opposed to the free-market and as a firm believer of the planned economy, he forced the steel industry to cut its exports and threatened the cement manufacturers to cut prices or face punitive action. Chidambaram, as finance minister under Prime Minister Manmohan Singh and Deputy Chairman of India's Planning Commission, Montek Singh Ahluwalia is a part of the Planning Commission of India.
Early life
Chidambaram was born to Kandanur L. Ct. L. Palaniappa Chettiar and Mrs. Lakshmi Achi in Kanadukathan in the Sivaganga District, in the state of Tamil Nadu, India. He was born into the royal family of Chettinad.
Chidambaram did his schooling from the Madras Christian College Hr.Sec.School, Chennai. After graduating with a B.Sc. degree in Statistics from The Presidency College, Chennai, he completed his Bachelor of Laws (LL.B) from the Madras Law College, and his Masters in Business Administration (MBA) from Harvard Business School, Harvard University.
Career as a lawyer
In 1969, he enrolled as an Advocate in the Chennai High Court. He was designated as a Senior Advocate in 1984. He has chambers in Delhi and Chennai and practices in the Supreme Court and in various High Courts in India. He has also appeared in a number of arbitration proceedings, both in India and abroad.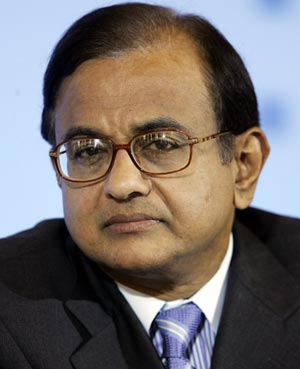 Minister of Home Affairs of India

Incumbent
Assumed office
30 November 2008
Prime Minister Manmohan Singh
Preceded by Shivraj Patil

Minister of Finance of India
In office

16 May 1996 – 19 March 1998
Prime Minister H. D. Deve Gowda
Inder Kumar Gujral
Preceded by Manmohan Singh
Succeeded by Yashwant Sinha
In office
22 May 2004 – 20 November 2008
Prime Minister Manmohan Singh
Preceded by Jaswant Singh
Succeeded by Manmohan Singh
Born 16 September 1945 (1945-09-16) (age 63)
Kandanur, British Raj
Political party Indian National Congress
Spouse(s) Nalini Chidambaram
Children Karti Palaniappan Chidambaram
Residence Chennai, India
Alma mater Presidency College, Chennai
Madras Law College
Harvard Business School
Occupation Lawyer
Religion Hindu
Website http://www.pchidambaram.org/