Tamil Nadu Tourism - Wild Life Index - Guindy Snake Park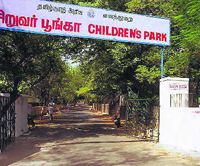 Guindy Snake Park, formerly the location of Madras Crocodile Bank Trust, is next to the Guindy National Park. There one can see King Cobra, pythons, vipers and other reptiles. 22 acres (89,000 m2) of GNP has been carved out into a children's park and play area at the northeast corner of the park with a collection of animals and birds. Animals in the children's park include black buck, sambar, spotted deer, porcupine, hyena, jackal, python, grey pelican, night heron, cormorant, cockatiel, mongoose, bonnet monkey and common langur. The Snake park and Children's park have separate entrances and independent entry fees. Drinking water, vendors and catering is available.
Guindy Park is behind the Gandhi Mandapam, Kamaraj Memorial and Rajaji Memorial on Sardar Patel road on the southern outskirts of Chennai. The rear southeast edge of the park adjoins the campus of Indian Institute of Technology. Guindy station (Suburban Track) is 1 km away. Chennai Egmore Railway station is 9 km away. Chennai Central Railway station is 12 km away. Chennai airport is 8 km away.