Tamil Nadu - Temples - Thirupparankundram Murugan Temple
Thirupparankundram Temple
Thirupparankundram is one of the six abodes of Lord Muruga, 10km south from Madurai. It serves as the best among the Arupadai Veedu of Lord Muruga, attracting rolling crowds all the year. Thirupparankundram, the place where Lord Muruga was married with Devayanai, is considered as a sacred place for marriages. It is possible that the worship history of this hill goes far into the past, may be even well before there appeared Hinduism. There are many legends associated with this mountain.
Thus, the hill is considered to be the "Southern Himalaya"where the gods assemble. There is also legend that this is the place where Sun and Moon take a rest.
Murugan Marriage in Temple
Thiruparankundram is one of the six main pilgrimage sites for the devotion of the son of Shiva - Muruga (also Subramanya), Tamil Hindu god of war and patron of Tamil Nadu. Story goes that Muruga with his troops rested here after one of his famous six battles against demons. Finally he saved Heaven by defeating the evil Rakshasa Soorapadman and returned to Thiruparankundram Hill followed by all the liberated deities. At this beautiful hill, where opens wide view on the lively landscape of Tamil Nadu, in the temple he married Devasena (Deivayanai), daughter of Indra given to him as a gift for victory. Marriage took place in the presence of all deities. Since there have happened such important events, Murugan Temple in Thiruparankundram became one of the most revered shrines in Tamil Nadu. Up to this day Tamil people readily marry here. Especially many pairs get married in festival of marriage - Pankuni Uttiram - in late March. Temple leads very active religious life with numerous festivities and Thiruparankundram for most part of the year is teeming with life.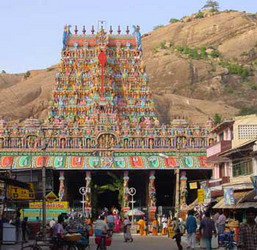 History of the temple
According to another tale King Harichandra worshipped Shiva from this hillock and gained eternal wisdom. Thus he built a temple here - temple was complete with Praharams (ambulatories), walls, Gopurams (gate towers) and steps.
The "Real history" (who can differentiate myths and reality in Indian past?) of the temple may start with 8th century AD when Pandya rulers built rock-cut temple. Later, during the reign of Nayaks of Madurai (1559 - 1736 AD) the temple was supplemented with beautiful gopurams and beautified. There was built extensive and beautiful front part (mugha mandapam) with 48 ornate pillars carved during the rule of Pandya and Nayaks.
Description of the temple
This rock cut temple has separate shrines for Lord Ganapathy, Shiva, Durgai, Vishnu and other deities. The entrance of the temple is built with 48 Nayaka period pillars with artistic carvings engraved on them. The speciality of Thirupparankundram temple is that the innermost shrine is carved from a single rock. Entrance in the ancient cave temple leads through a row of massive square pillars ornamented with lotus-shaped medallions.
Inside the cave temple there has been preserved ancient painting of Nataraja - dancing Shiva. Cave temple contains also the sculpture of presiding deity Sri Subramaniyaswamy (Muruga). Rock-cut temple contains also 41 inscriptions revealing the early history of the temple. Before the ancient rock-cut temple there is built front part - mugha mandapam. Separate entrance leads into Sani Bhagawan - another shrine in this temple. In the western side there is rock-cut chamber which houses the lingam but in the eastern side there is one more shrine with Vishnu and Durga opposite to him. Temple contains many more carvings of deities.
In the south-eastern part of Kambaththadi mandapam there has been found a 30 m long tunnel. Temple contains also two historical wooden carts which are used for ceremonial purposes in certain proccessions. Another interesting fact about the Thirupparankundram temple is the presence of subsidiary cave shrines excavated in the rock, with idols arranged so orderly like a military session. These small cave shrines can be approached through narrow dark passages. It is quite difficult to find similar group of cave shrines elsewhere.