Tamil Nadu - Temples - Papanasam Temple
Papanasam Temple
Papanasam Temple is located at Papanasam village, near Tirunelveli. The presiding deity is Papavinaseswarar ( Lord Shiva), the redeemer of sins.The river Thamiraparni that flows by the temple teems with fish. Devotees believe that these are redeemed souls, and harming them would bring retribution. Thousands of pilgrims come here every year to bathe in the sacred river.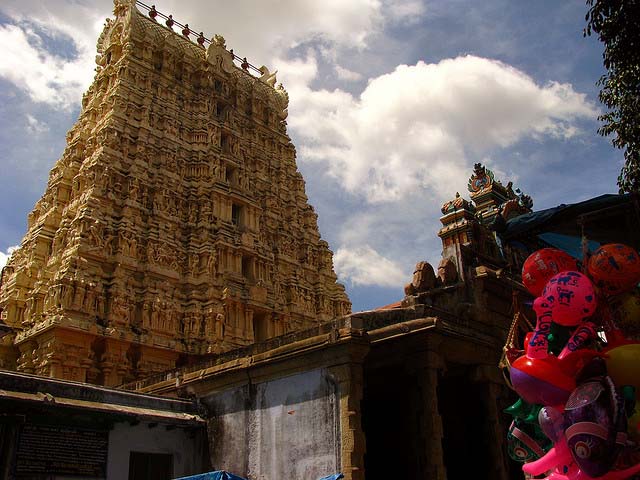 History
There are two temples; The Pallaivanatha Swamy temple constructed by the Chola King and the other is the 108 Sivalayam temples. There is also a Granary (storehouse of paddy) which measure 86 feet (26 m) in width and has a height of 36 feet (11 m) with a capacity of 3,000 kalam which is a measure. The Nayaks between 1600-1634 constructed it. It was built by stone of lime. The State Archaeological Department declared it as a monument. One can see the 108 Sivalingams only in the temple in Papanasam. Also one can see a Granary of this size only here.
Temple Structure
The Papanasam temple structure is marvelous. There is artistic beauty in it. There are 7 steps in the Gopuram an this temple is in the western banks of the Thambirabarani river. The importance of this place is that Agathiaa Munivar stayed here and did penance. The height of the temple – Gopuram is 80 feet. This temple is divided into 2 parts. In one part Papanasam Perumal adorns. He has a number of names Vairasalingam, Pazhamurainayagar, Mukhazhalingar, Paranjothi Lingar so on and there are 3 piraharams in front of the karpagraham where the Lord adorns. There are also Mada veedhi, Nandavana churtu, Utchurtu Mandapam, Vasantha Mandapam, Vahana Mandapam and Thirumarai Mandapam. The Navagrahas appear in front of the Thirumana Mandapam. In the Nothern side, Lord Dakshinamurthy gives Darshan, facing south.
There are sculptures of single fish and double fish found on the top layer of Vasantha Mandapam. So it is said that this temple had been built during Pandya period. Since it is said that the Pandya king Vikramasingan built this temple, the place Vikramasingapuram is called after his name.
The month of Chithrai is one of the celebrayion. On the ninthday is the car festival. Then the floating festival takes place. One must realize that if we take bath in the river opposite the Papansam temple, it is equivalent to taking bath in Kasi. There is no doubt that the sins we had committed would leave us.
It is very important to worship Lord Shivalinga during Sivarathris. There are procedures in worshipping Lord Sivalinga. If we worship according to these procedures our sins will be removed. Birth – diseases will be removed. The sages have said that whoever worships Lord Sivalinga, will be relieved of their sins.
The history of Podhigai Mountain famous
In the Golden world, the Karpaga trees showered flowers, the sages recited the Vedas, the Angels stood on both sides and fanned, the round umbrella gave shade, Urvasi and some girls danced and Lord Devendran was sitting with Indrani on the throne. Kosarar who was an authority in playing Veena was praying at the feet of Lord Siva. He sang in praise of Kailaya Mountain, Mameru Mountain and some other mountains. Lord Indira felt happy and gave them what they needed. Then he asked his Guru Lord Viyazha why that musician sang in praise of only a few Mountains. He received an answer saying that he sang in praise of Mountains which were blessed by Lord Siva.
Naradha Munivar who heard about the fame of these Mountains came and told that Podhigai, Saiyamalai and Tharuthamalai should worship Lors Shiva, Naradhar also ordered to worship Lord Sivalingam, situated on the side of Mukala Virutcham. Then the three Mountains rose up, had bath in the Veda Theertha as per the orders of Naradha and did Archana to Lord Siva. Even if a person is born in a flawless, good family, if he does not do Sivapuja, he will not prosper. Even if a person is born in a low family, if he performs Siva puja according to rituals, he becomes a member of a high family, where Naradha said this, the Mountains Podhigai Saiyam, Tharuthram controlled the five senses and prayed to Lord Parameswara. Lord Siva appeared as as Jothi on Sivarathri Day as bright as million suns together.
The holy place of Papanasam contains many historical facts. Among them are Vairasalingam episode, moksha given to Virattu, The Vedas transformed into Thala Virutcham, the episode of Raja Raja Pandiyan who was cursed and Sundaran's repentance. The disciples of Lord Siva say – If people pray to this holy Podigai Mountain with sincereity, they will be relieved of their sins and would be blessed with prosperity.